Happy humpday! And before you get any dirty ideas, its the day that marks the middle of the week. The hump of the week. Hump Day. How are your sugar cravings coming along? Im on day 6 and I no longer have any headaches! (Although it does turn out my headaches might have been caused by using the wrong contact lenses)
Anyway – As I mentioned before Im slightly obsessed with my facial skin. Like nothing beats a good facial cleansing routine (although Im still working on making it a routine). My mother installed from an early age how important it is to moisturize my face, and especially under my eyes so since like the age of 16 I have been using under eye creams. Some call it being vain, some call it being smart. I call it being cleaver. I still get asked for ID and Im late 20s. My beauty favorites span from some really expensive shit that makes my face smell like a bed of flowers and really cheap shit that makes me save money.
These are currently my favorites.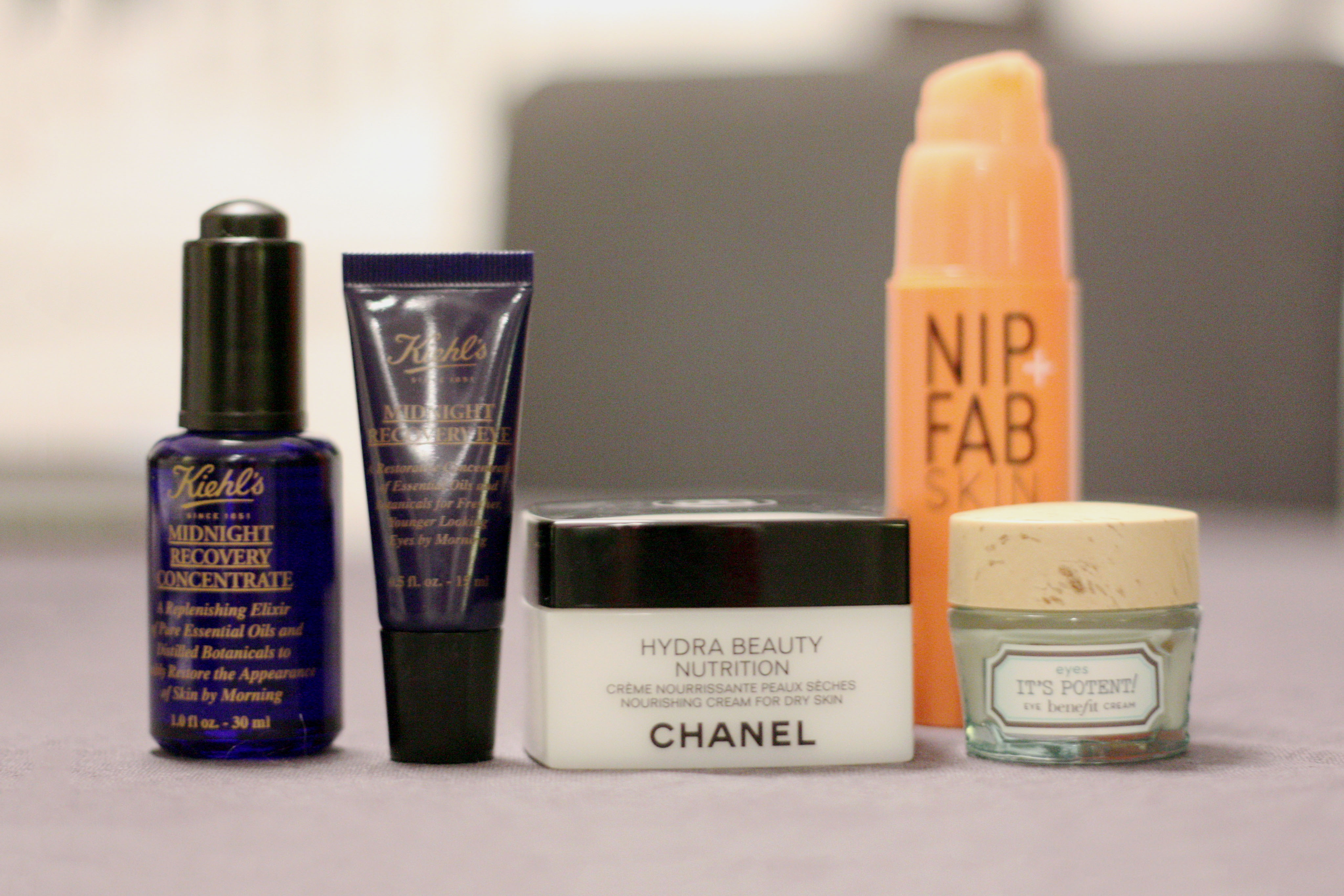 I tried Kiehl's midnight recovery concentrate for the first time a few years ago and I have been in love ever since. What so great about Kiehls is that if you are not 100% happy with your product and how its worked with your skin you can actually take it back, even though its almost empty and get your money back. How amazing is that? That just shows how much faith Kiehl's have in their product. Another great thing is that a little goes a long way, so even though its a bit pricey it lasts forever. For me at least.
When they launched the Midnight Recovery Eye cream I jumped on it. Its amazing, so amazing that when I combined it with Benefits Its Potent! eye cream in the evening before bed I had to look twice in the mirror the next morning. I just couldnt believe the change! (just thought Id mention, no eye cream will remove dark circles that caused due to genetics, it will however help reduce appearance of dark circles that are caused by diet/sleep/non genetic factors, so people, dont expect a tiny eye cream to remove something that yo momma gave you)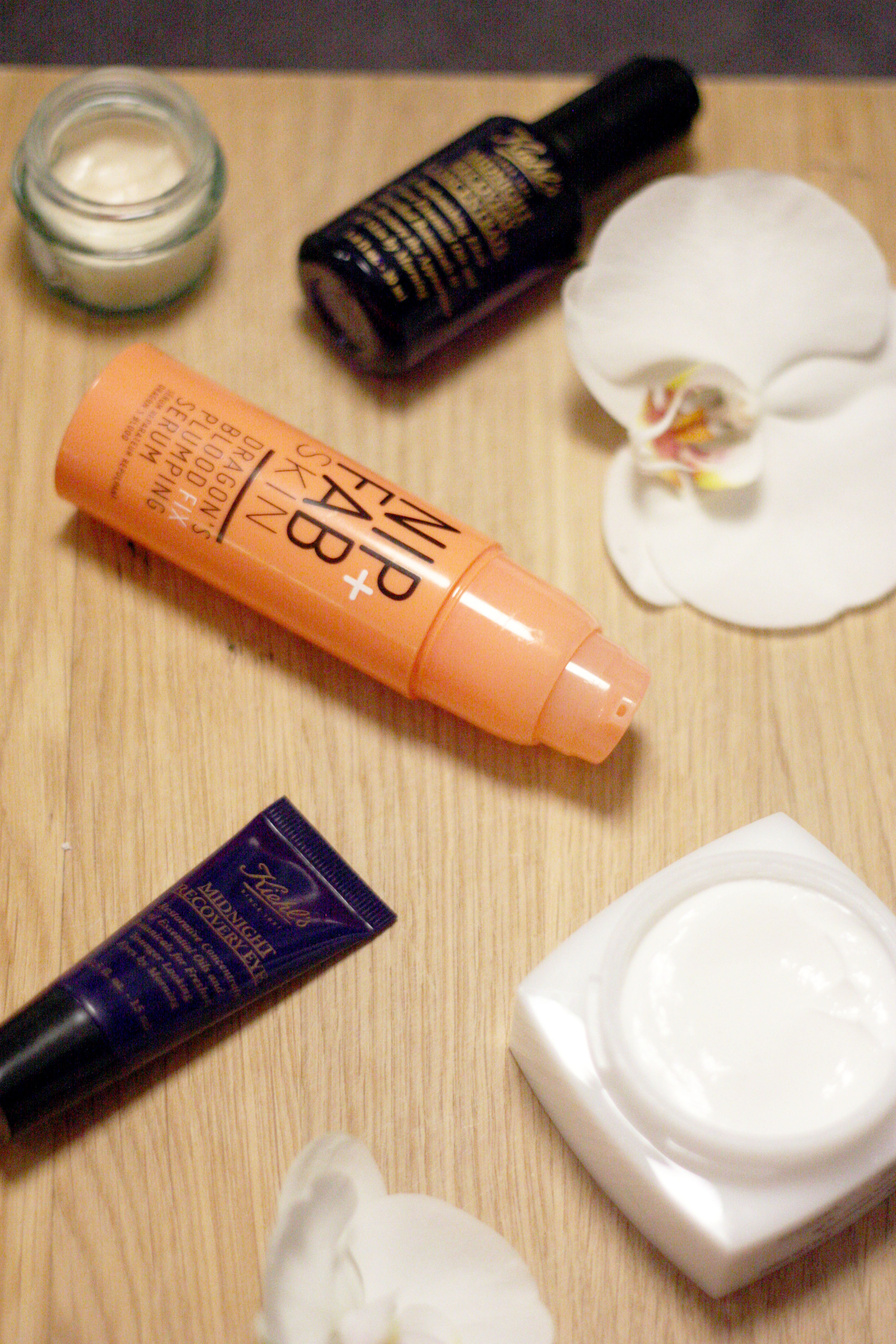 Another new favourite, which I picked up on offer from Boots for a wooping £9 (and has lasted since October, used twice a day!) is  Nip+Fab plumping serum. I have one really bad wrinkle (my mom calls it the angry wrinkle) because its just were I frown when Im angry. I use this on the wrinkle and also around my lips for the Kylie Jenner look  before I put on foundation to hide the wrinkle slightly, plumping it up if you will.
My last skincare favourite is Chanel Hydra Max gel cream. I was given a sample of this cream when I was in Miami a few years ago. The beautician was applying my makeup and said "you have very dry skin, you should try this" – and here is me thinking my breakouts were due to oily skin! Since then I have realised just how dry my skin is so I have moved to the Chanel Hydra Max cream for dry skin and I love it. I dont love the price so much, so sometimes I mix it up with the new body shop range OILS OF LIFE™ INTENSELY REVITALISING CREAM.
What are your favourite beauty products? Im always open to hear about new ones to try out!