You know when you wake up one morning and you're covered in bug bites? Which then turns into an allergic reaction, which then results into you looking like Quasimodo? No? Well I do. Im currently covered in anti itch cream, and popping antihistamines like its going out of fashion.  So in attempt to make me feel better (before my arms got so swollen I couldn't move) I decided to whip up a batch of sugar free cinnamon rolls! If you have been reading my blog, you know that on January 1st I gave up refined sugar for 100 days. Cinnamon rolls is one of my biggest weaknesses. I love the combo of cinnamon and sugar. Makes me drool just thinking about! But alas, as they contain lots of sugar, they are off my menu for a while. I kept seeing recipes on Pinterest which are sugar free, gluten free, vegan friendly, paleo diet friendly etc ect but they just seem way too complicated. You can then image my delight when I came across this recipe that is so close to the original but contains NO sugar!! Hurray! Thank you Shundara!
They didnt last very long as you can imagine – so here is a quick snap from my phone before they disappeared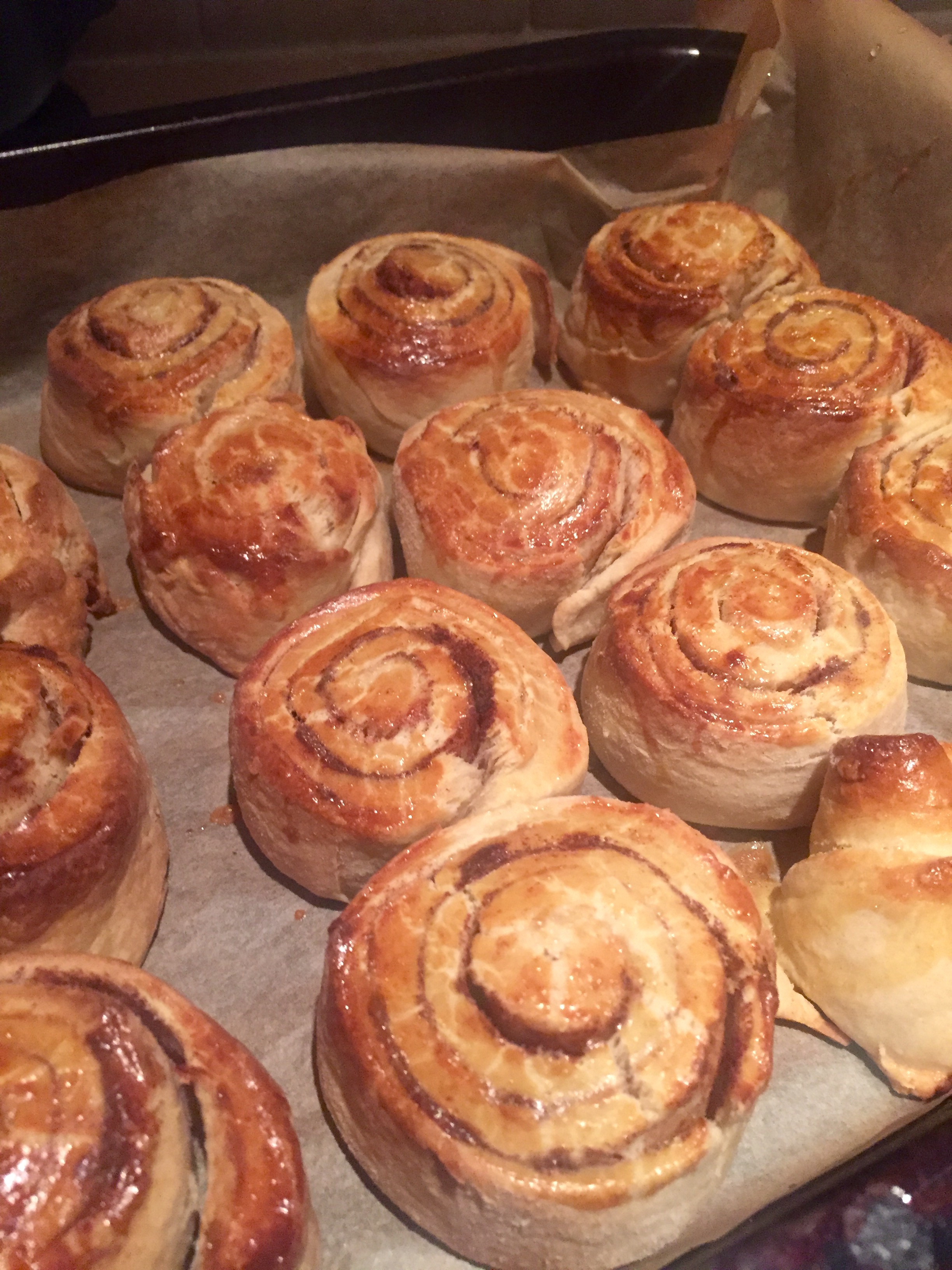 Now dont panic – I know this recipe has sugar in it, but as Shundara mentions on her website in the original recipe, the yeast will actually eat the sugar, making the end result sugar free.
Sugar Free Cinnamon Roll Dough Recipe:
3 ¼ cups all-purpose flour
¾ cup almond milk ( I used sweetened)
½ cup butter
One packet yeast (25gr)
3 tbsps. granulated sugar
½ teaspoon salt
1 egg
¼ cup water
Sugar Free Cinnamon Roll Filling Recipe:
1.5 cups sugar sub (I used a mixture of stevia and sucrose)
¾ cup butter, softened (I used whipped butter)
1tbsps. ground cinnamon
Sugar Free Cinnamon Roll Directions: Heat the milk in a small saucepan until it bubbles, remove from heat. Add butter and stir until melted. Let cool until lukewarm. In a large bowl, combine 2 ¼ cup flour, yeast, sugar and salt and mix well. To the dry ingredients use a mixer and add water, egg and the milk mixture slowly and beat well. Add the remaining flour, ½ cup at a time, stirring well after each addition. When the dough is pulled together, place onto a lightly floured surface and knead until smooth, about 5 minutes. Cover the dough with a damp cloth and let rest for 30 minutes to an hour (this will ensure that the yeast has ate all the sugar, and also allowing the dough to rise in the process). Meanwhile, in a medium bowl, mix together sugar sub, cinnamon, softened butter. Roll out dough into a rectangle (any size will do). Spread dough with sugar sub mixture. Roll up dough and pinch seam to seal. Cut into 12 equal size rolls and place in a well-greased cut side up. Cover and let rise until doubled, about 30 minutes. Preheat oven to 375 degrees. Bake in the preheated oven for 20 minutes, or until browned. Let cool and serve!
Happy eating! I know I am!