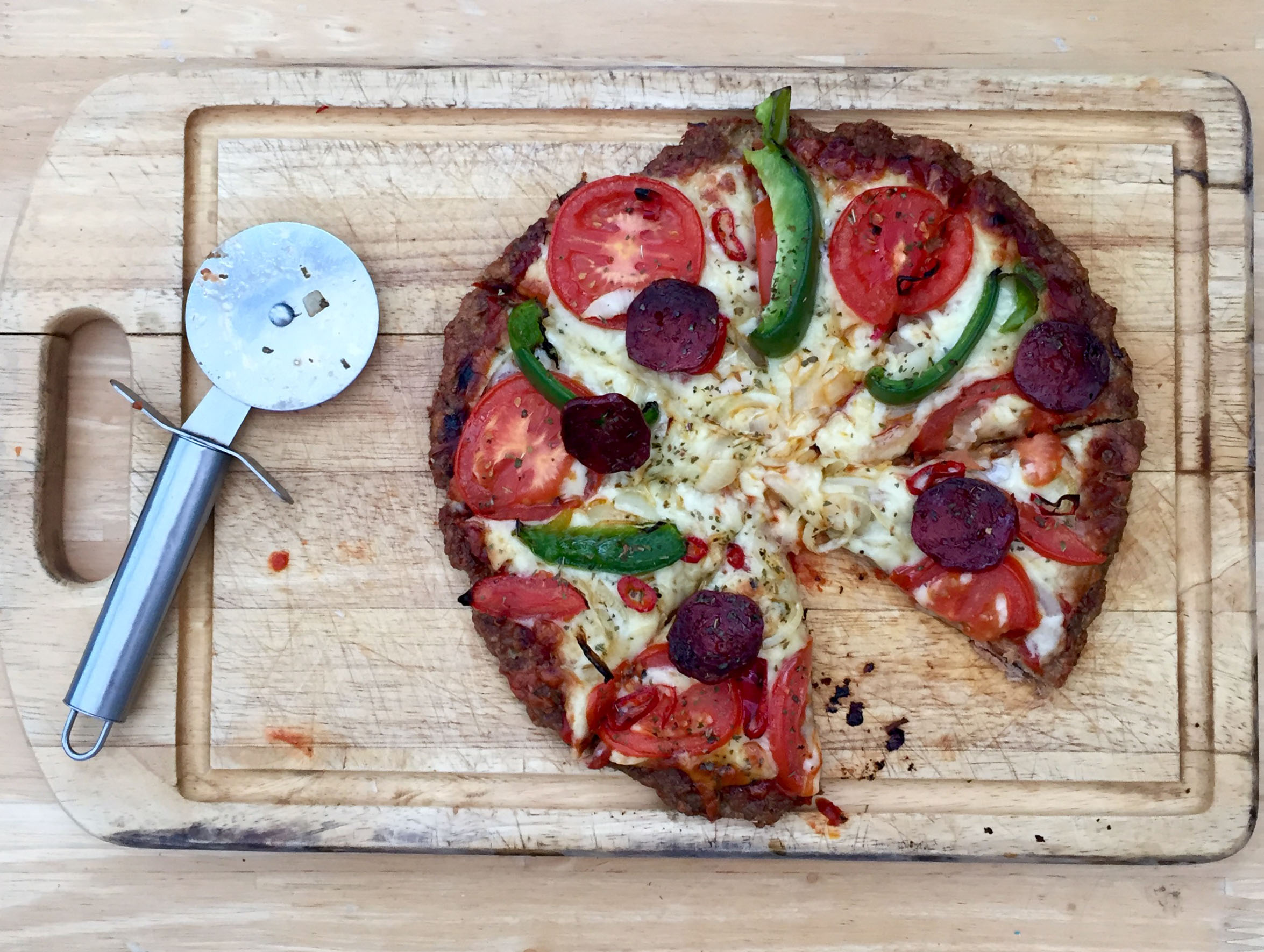 MMM Pizza! Who doesn't love a big cheesy pizza covered in your favourite toppings? My mouth starts to water just thinking about it. Sadly, pizza is not on my diet plan. Although some cheese is good to include in a well balanced diet, a pizza is not. I remember in high school an old friend of mine used to say that pizza is actually very nutritious (obviously an excuse for his 4 frozen pizza a day consumption). His theory was that for a well balanced diet you needed carbs, dairy, meat and veggies, something that the pizza's he was consuming offered. Clever but bull crap. ( For my Norwegian readers, his pizza of choice was Grandiosa Original – I think we can all agree it is far from nutritious!)
Im sure by now most of you have heard of  the cauliflower base pizza. Ive only attempted to make it once and it turned out very soggy (apparently I didn't get all of the water out) and the amount of cheese that went in it was shocking. It left me feeling a bit disappointed and it took forever to make. Enter Meatza Pizza.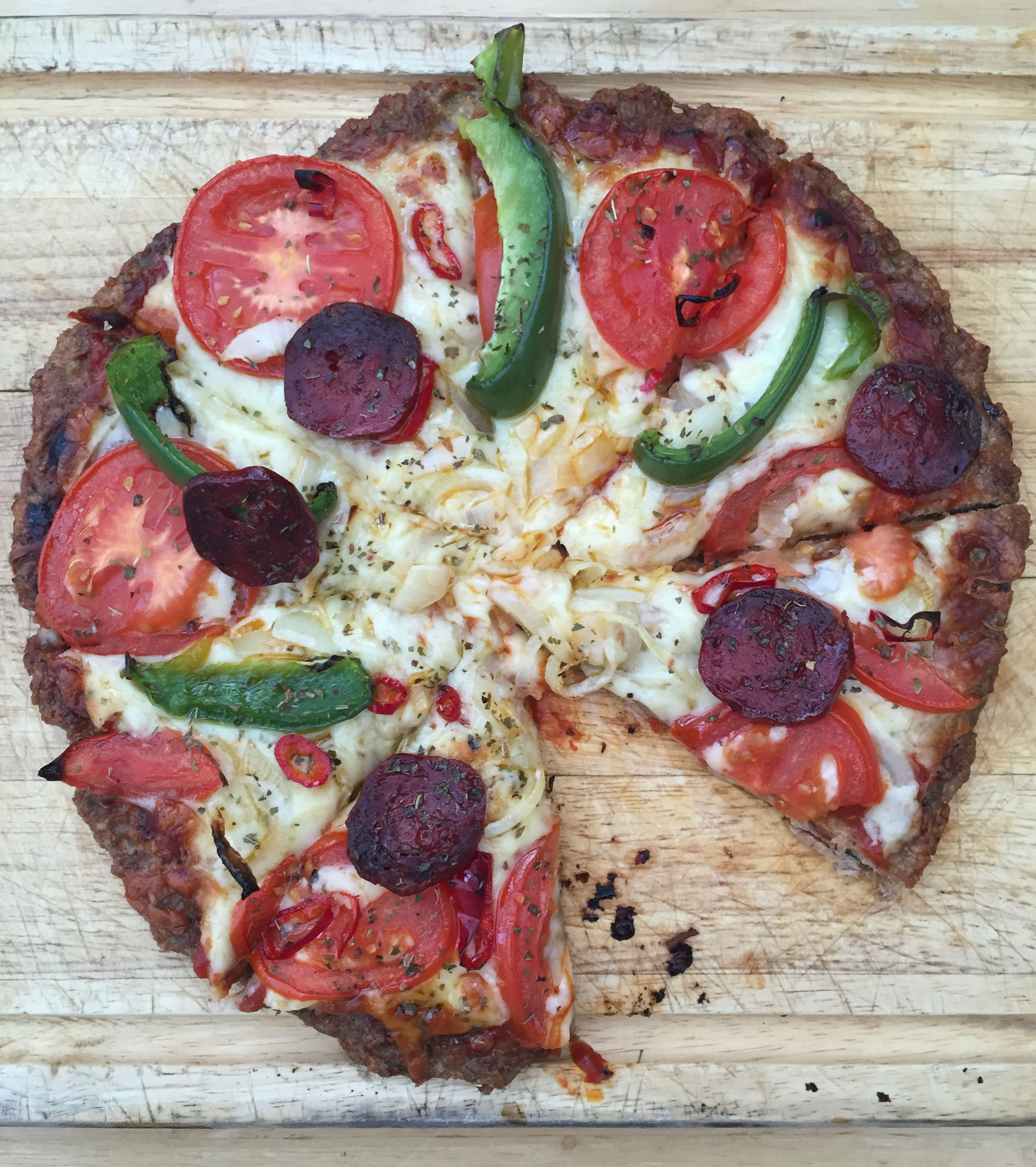 What is a Meatza pizza you might ask? Well its a pizza made with a mince turkey/chicken/pork crust. Perfect if you need to add more protein to your diet. As you can see from the pictures – this pizza is so tasty I couldn't wait to have slice! I came across this recipe on DashingDish.com a couple of years ago and its become one of my favourite go to recipes when I need to cut back on the carbs.  You wanna know the best part? It only takes 30 minutes to make!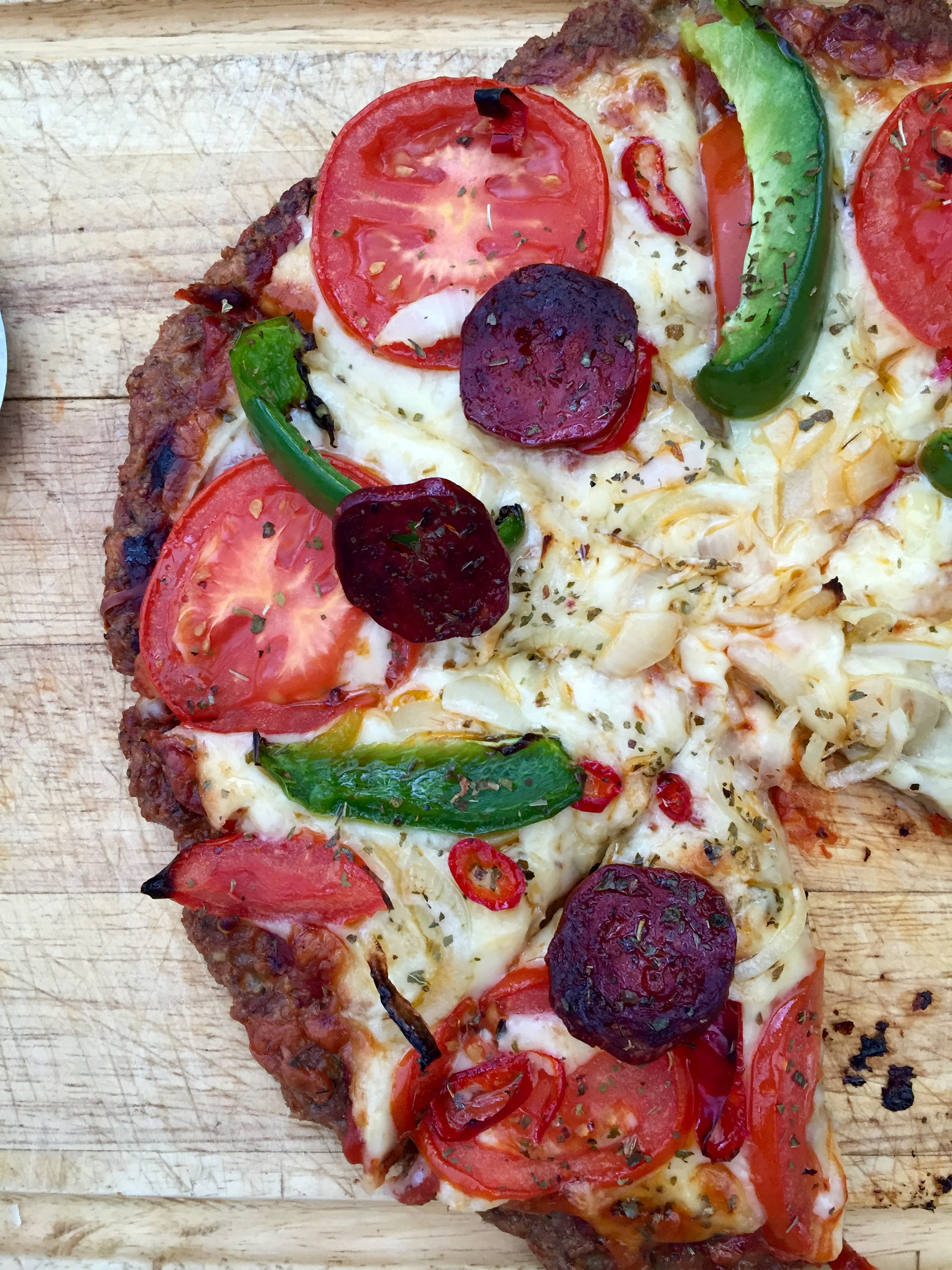 You need
Crust 
500 grams Lean ground turkey (or ground chicken/ lean ground beef or pork)
1 tbs Italian seasoning
1/2 tsp Garlic powder
1/2 tsp Onion powder
1/4 tsp Salt
1/4 cupParmesan cheese, grated
1 Egg white
Topping
3/4 cup Pizza or tomato / pasta sauce of choice
3/4 cup Light cheddar cheese or Mozzarella cheese, shredded
Optional Toppings: Turkey pepperonis, parmesan cheese, veggies of choice
Method
1. Preheat oven to 190c. Line a baking sheet pan with baking paper. In a medium bowl, mix together all of the ingredients for the crust.
2. Flatten crust out in a circle or a square shape on the prepared baking pan. Crust should be about 3-5 mm thick. Bake for 20 minutes, and remove from the oven. Turn oven temperature up to 230c.
3. Spread pizza sauce over the crust and sprinkle cheese over top of sauce. Layer with additional toppings as desired. Place pizza back in the oven and bake for an additional 7-10 minutes, or until cheese is melted and toppings are cooked to your liking. Remove from the oven and let cool for a few minutes. Cut meatza pizza into 8 slices and enjoy!
Ps. the pizza is a lot easier to slice once its cooled a little!