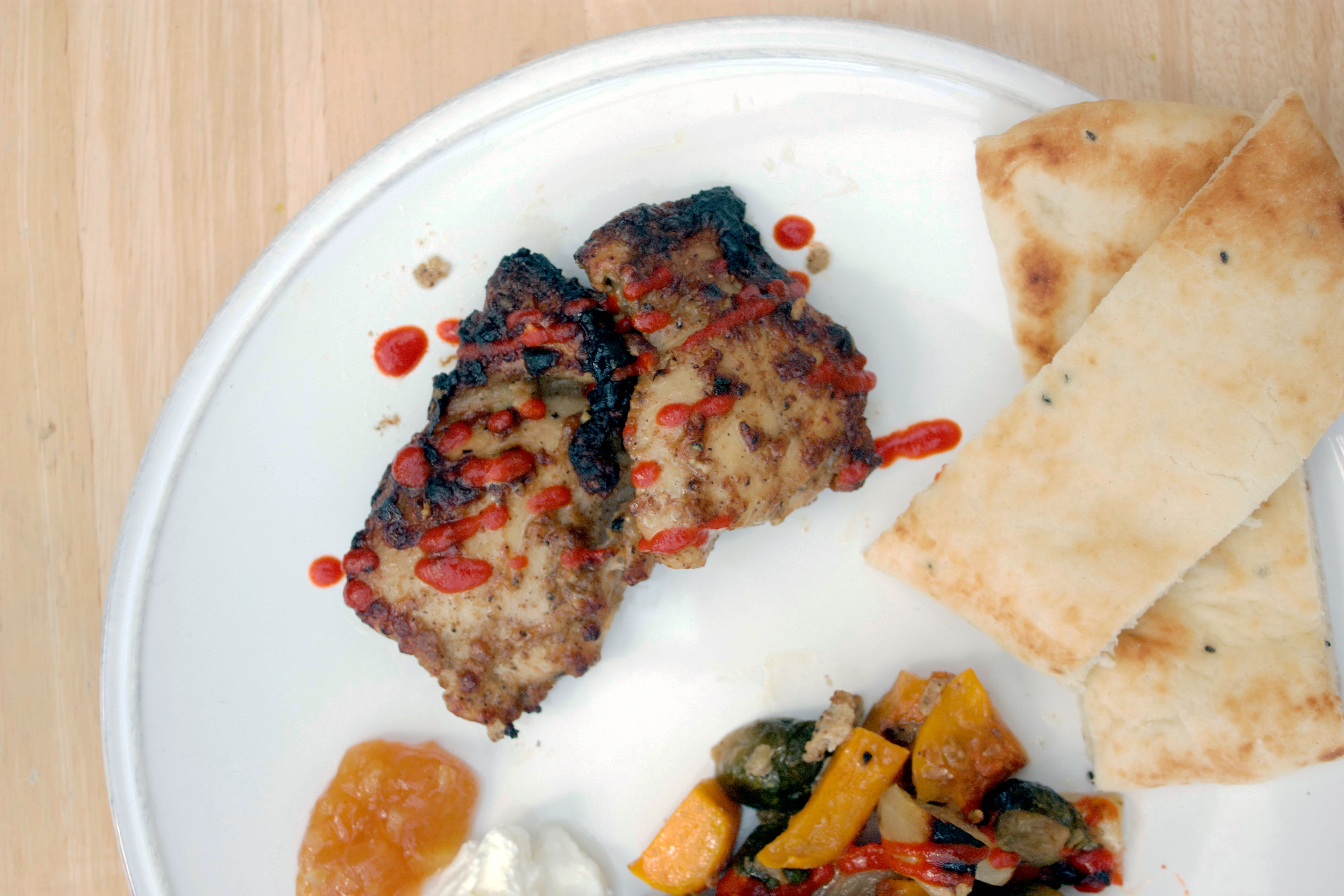 I have such a weak spot for spicy food. Like just give it all to me, but I also have a weak spot for healthy food that is super quick to pull together. Enter curried chicken and roasted vegetables. This dish has so much flavor, and it's so easy and quick to make.
INGREDIENTS
500 grams butternut squash in 1-inch cubes
200 grams brussels sprouts, halved
1 large red onions, cut into thin wedges
half a cup canola oil (reduce as you feel, because this is a lot!)
Salt and freshly ground pepper
half a cup plain fat-free Greek yogurt, plus more for serving
1 tablespoons minced fresh ginger
1 large garlic cloves, minced
0.5 tablespoon Madras curry powder
600 grams skinless, boneless chicken thighs ( for healthier version use chicken breast fillets)
Warm naan, for serving
 HOW TO MAKE THIS RECIPE
Preheat the oven to 450° and position racks in the upper and middle thirds. In a very large bowl, toss the butternut squash with the brussels sprouts, onion wedges and 1/2 cup of the canola oil; season with salt and pepper. Spread the vegetables in a large baking tray

In the same bowl, combine the cup of yogurt with the ginger, garlic, curry powder and the remaining 1/2 cup of oil and season with salt and pepper. Add the chicken and toss until thoroughly coated. (I usually do this the evening before and leave it to marinate!)

Arrange the chicken on top of the vegetables. Roast for about 40 minutes, rotating the veggies halfway through, until the vegetables are nearly tender and the chicken is nearly cooked through. Take out and pour off any liquid in the pan and roast for about 20 minutes longer, until the vegetables are tender and the chicken is lightly browned. Transfer the chicken and vegetables to a platter and serve with warm naan and yogurt. I add a little chutney to it if I have any laying around and some sriracha sauce for some added kick. Have I mentioned I like spicy food?
This dish serves 4 by the way! Happy eating! 🙂