Guys, I don't know if you know this but it's Chocolate Week! Yup, no lies. A whole freaking week dedicated to deliciousness that is chocolate. I'm really gutted I just found out. I feel like I have massively missed out on something super important. Like FashionWeek, but for Chocolate. White, dark, milk, powder, chunks, chips,  bites, bits, drops, or melted. We do not discriminate against chocolate. Not even chocolate that includes mayonnaise.
I'm a super chocolate fan, I'm pretty sure it runs in my blood, my mom has always been a huge chocolate fan. White, dark, milk, powder, chunks, chips,  bites, bits, drops, or melted. We do not discriminate against chocolate. I don't even discriminate against chocolate that includes mayonnaise. Yeah you read right, chocolate that includes mayonnaise. (Because y'all know I am a huge mayo fan too so that helps)
Created by Super Golden Bakes, I just had to share these with you! 🙂  I am not gonna lie, they are probably the best brownies I have ever tried. I had the pleasure of enjoying a spoonful at the Heinz Seriously Good Event, and the first thing I did when I got home was to whip up my own batch. I took them to work and they went down like a treat. Even the boyf when a bit brownie crazy and he doesn't have sweet tooth.. Or so he claims…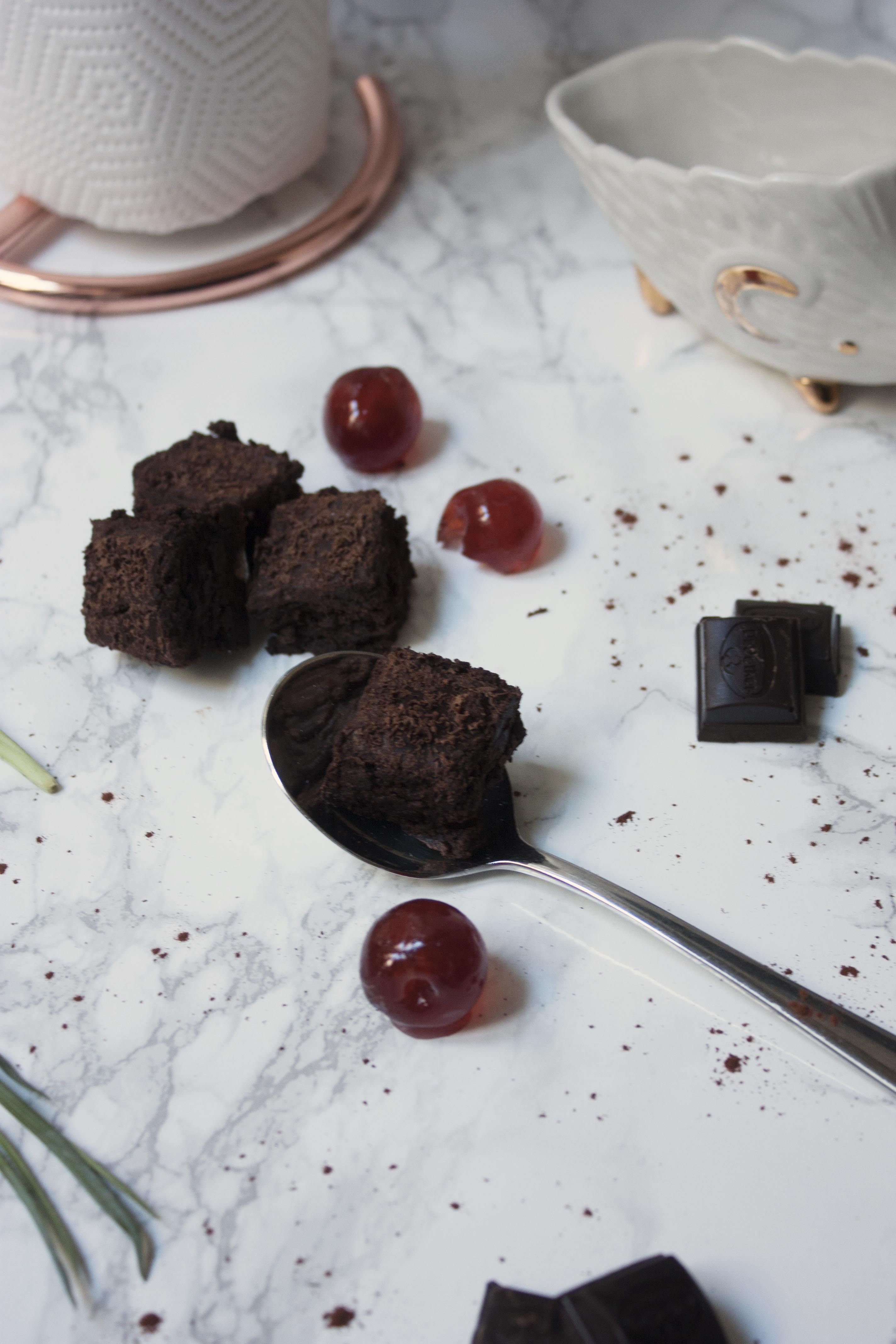 SERIOUSLY GOOD CHOCOLATE-FROSTED BLACK FOREST BROWNIES (Super Golden Bakes)
Makes about 30 big squares or 50-60 small cubes
Ingredients
200g | 7oz Heinz [Seriously] Good Mayonnaise
200g | 7oz good quality dark chocolate, chopped small
300g |10.5oz soft light brown sugar (make sure it's free of lumps)
125g | 4.4oz plain (all purpose) flour
100g | 3.5oz candied cherries, halved
60g | 2oz cocoa powder
2 large eggs
2-3 tbsp cherry brandy (optional)
For the glaze
100g | 3.5oz dark chocolate, chopped small
100ml | 3.4fl oz double cream
2 tbsp runny honey
extra shaved chocolate to decorate, optional
Method
Preheat the oven to 180C | 350F. Line a 18cm (7in) square brownie pan with baking paper, letting it hang over the edges.
Place the chopped chocolate in a bowl and set over a saucepan of barely simmering water. Make sure the bottom of the bowl is not touching the water. Allow the chocolate to slowly melt, stirring it from time to time. Set aside.
Put the eggs and sugar in large bowl and whisk vigorously until frothy.
Whisk the mayonnaise and cherry brandy into the eggs and then add to the melted chocolate. Mix together until smooth.
Sift the flour and cocoa into the chocolate and mix together until the batter is smooth. Fold in the chopped cherries.
Pour the batter into the prepared tin and bake for 28-30 minutes. Leave to cool completely in the tin then lift out using the baking paper.
Put the chocolate for the glaze into a bowl. Put the cream and honey into a small pot and heat until small bubbles appear around the edge of the pot – do not allow to boil. Pour over the chocolate, leave to stand for 2 minutes, then use a balloon whisk to slowly stir until the chocolate is completely melted, glossy and smooth.
Spread the chocolate glaze over the cooled brownies and top with chocolate shavings (use a potato peeler on a bar of chocolate to create those or use store-bought).  Set aside until the glaze is set and then carefully slice into small cubes.
And voila! Seriously good brownies! 🙂 Would you eat brownies with mayo? Id love to hear if you try the recipe!