You know how like last year I went a little fudge crazy? Dont worry – I have learnt from my mistakes. There will be no fudging fudge this year. Mainly because I think I might be sick if I have to ever make another batch of fudge. Instead this year I thought I would make something that didn't require so much erm candy knowledge… dont know if thats even a thing..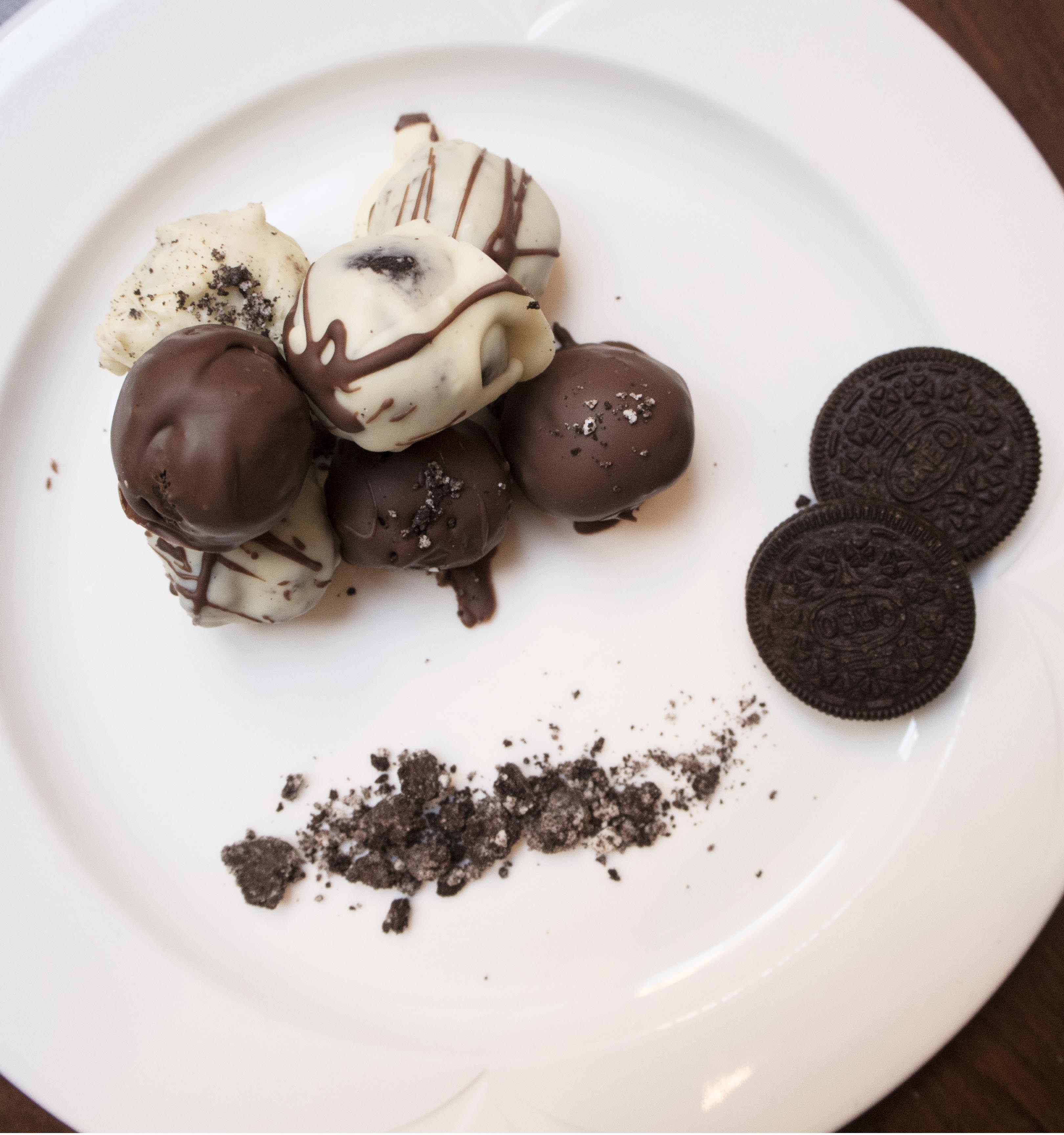 anyway TRUFFLES! Because ALL the chocolate – and ALL the oreos and ALL the Nutella. And when you make them, your hands get covered in delicious chocolate and when you're finished you can then lick it all off and no YOU ARE A GROSS GIANT KID. Truffles are a great no bake, quick christmas treat that is super easy to make and just so handy to have around during the holidays. The bonus is they DO NOT REQUIRE A CANDY THERMAMATOR (like those pesky fudges….)
And because Im super nice, Im gonna share the two recipes with you, which I totally found on Pinterest and am just reposting. So all creds to the original authors here! And dont worry, they are not in anyway shape or form healthy.
So what I found most funny about this recipe is that LOL it says 36 – and I totally only got 16 outta it… maybe most of it did end up in my stomach after all
Oreo Truffles
Ingredients
36 Oreos, divided (original not double stuffed), plus some more for topping if desired (thats about 2 packs of oreos)
1 (8 oz) pkg. cream cheese, softened (thats a family pack here in the UK)
Melted white chocolate, milk chocolate or dark chocolate
Directions
Set a long sheet of baking paper over a cookie sheet, set aside. Place 36 Oreos in a food processor (entire cookie, don't remove cream filling) and pulse too fine crumbs (alternately if you don't own a food processor you can place Oreos in a large resealable bag, seal bag and crush with a rolling pin until finely crushed – as a note, this took FOREVER to do). Pour crushed Oreos into the bowl of a stand mixer along with cream cheese and mix on low speed until well combined (alternately you can use a mixing bowl and a spoon to mix together). Scoop mixture out about 1 Tbsp at a time and form into 1 inch balls then align on prepared cookie sheet. Place truffles in freezer for 15 minutes. Meanwhile crush remaining 3 Oreos.
Melt  chocolate in a water bath. Remove truffles from freezer and dip in melted chocolate and use a spoon to pour some chocolate over the top then lift and allow excess chocolate to run off (Your basically gonna need at least 2 packs of cooking chocolate). Return to baking sheet, immediately sprinkle tops with remaining crushed Oreos then allow chocolate to set. Store in an airtight container in refrigerator.
Recipe Source: adapted from Kraft
ps the GREAT thing about these is that they dont melt. Well they do, but not as quickly as the ones below. So you can totes give these away as an xmas present.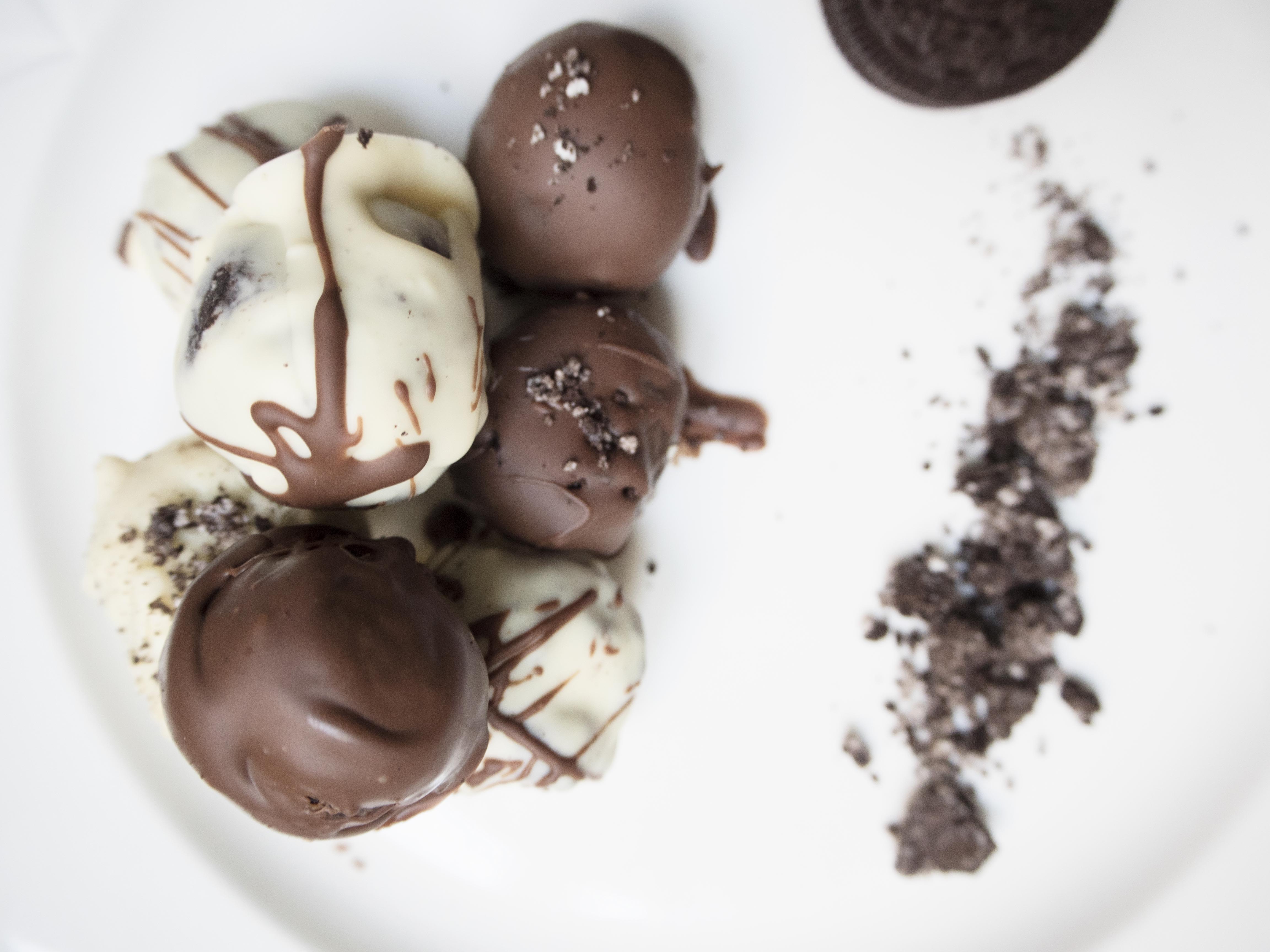 Now on to the nutella – basically the original recipe calls for peeled hazelnuts. Now tell me, HOW THE FUDGE do you peel a FREAKING HAZELNUT?! I will tell you how, if your name is Yasmine, you dont basically.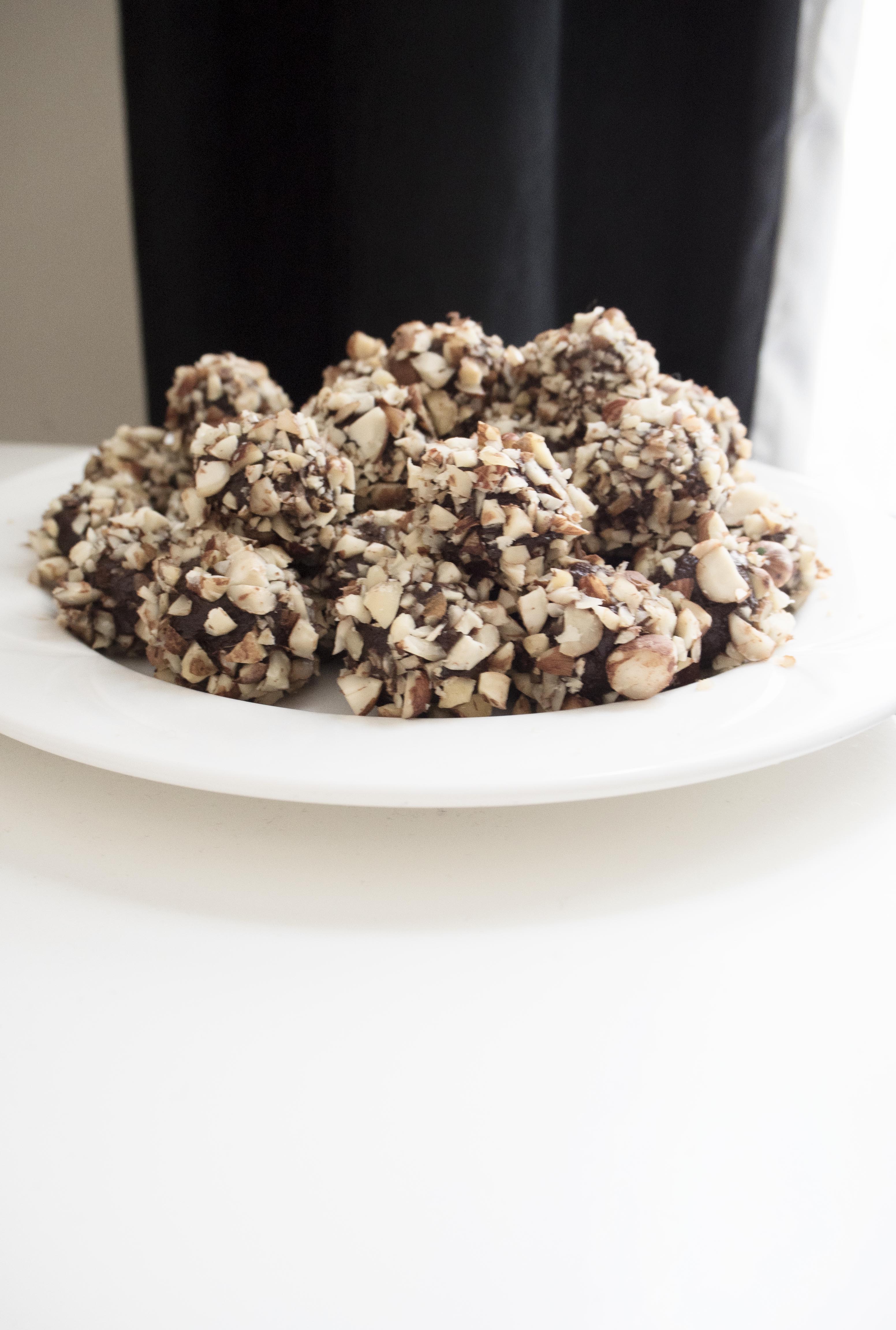 Like be honest here people, these basically look like homemade Ferror Roche and guess what? They dont taste far from!
This recipe was so easy to double so I ended up with well over 30 truffles. I lost count because lets face it, most of them ended up in my belly.
Nutella Hazelnut Chocolate Truffles
Ingredients
200 grams (1 and 1/3 cup) good quality dark chocolate (you can also use chocolate powder)
120ml (1/2 cup) thickened or heavy cream
300 grams (1 cup) Nutella
120 grams (1 cup) skinless hazelnuts
Finely chop the dark chocolate and place in a small bowl. Next, pour the cream into a small saucepan and place on a low heat. Once the cream becomes warm to the touch, pour it over the dark chocolate and leave for two minutes.
Then slowly whisk the chocolate mixture until it forms a lovely chocolate ganache. Add half of the Nutella and continue to whisk, then add the remaining Nutella and whisk until combined and smooth. Pour the chocolate into a deep bowl and pop into the refrigerator for 2-3 hours or until set.
Crush your hazelnuts until they resemble fine crumbs. (or just roughly chop them like did)  Then spoon out teaspoons (I defo used a tablespoon…) of the chocolate truffle mixture, roll them in your hands until smooth (Mine didnt turn out smooth, but who cares? They are covered by nuts anyway!) and roll them in the crushed hazelnuts. Store truffles in the fridge.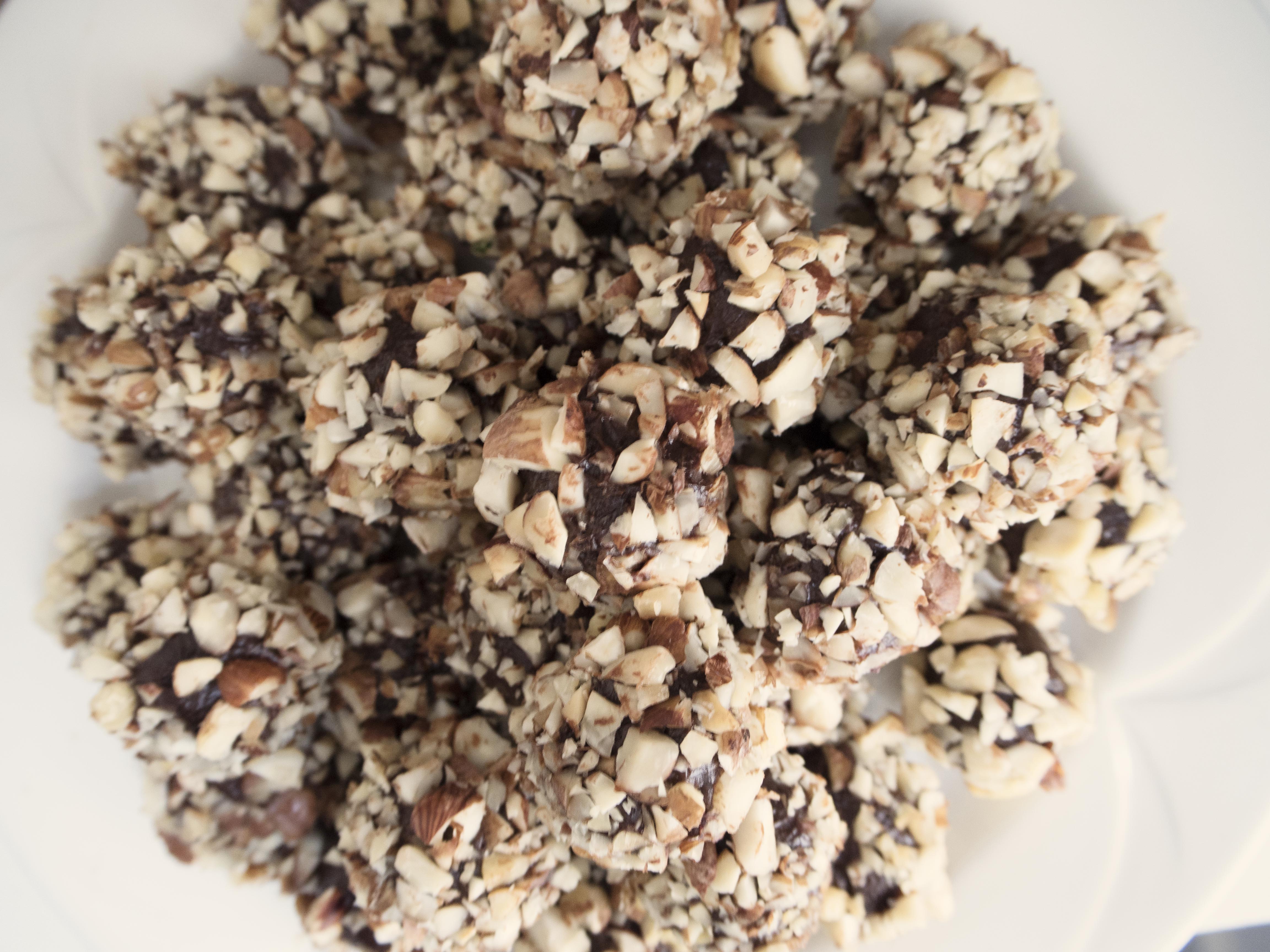 This post has kinda made me hungry – so brb while I go lick the bowl.