Ill be the first to admit my food photography isn't great, so you're basically gonna get like 2 pics from the same angle but I'm sure you will live.
ANYWHOOOOOOO – I wanted to share with you my new obsession in life, these epic sweet potato turkey burgers. Because sweet potato good! Turkey good! Burgers good!
and everything else that goes into it, GOOD!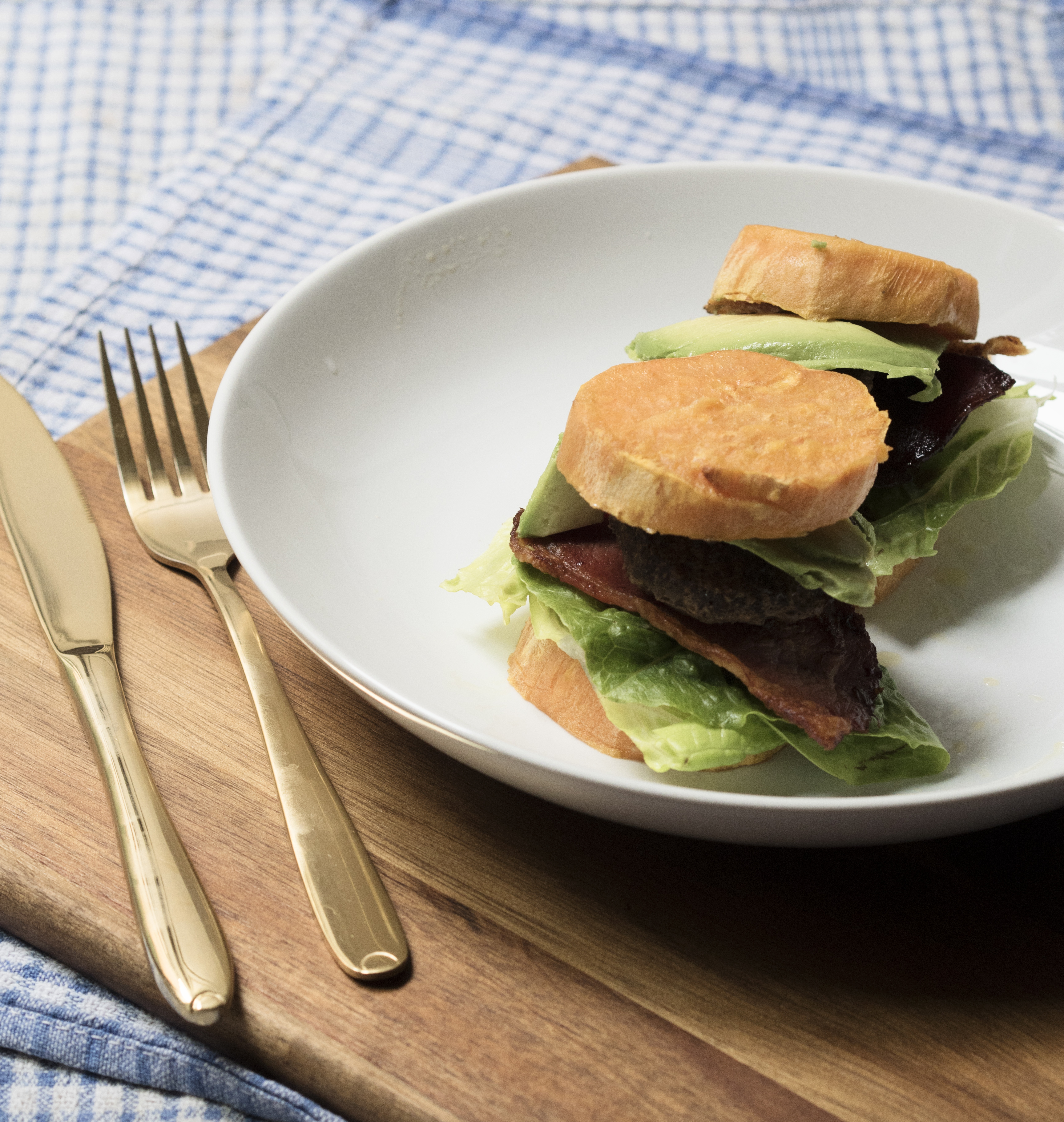 It's also been a while since I have shared one of my latest food obsessions with you. Me stuffing my face with takeaway pizza on Instagram stories do not count.
Originally I found these on www.proteinworld.com but I have slightly modified it because even though I am all about clean eating I also dont like my food sticking to the roof of my mouth.
And yes this does taste EXACTLY AS DELICIOUS AS IT LOOKS!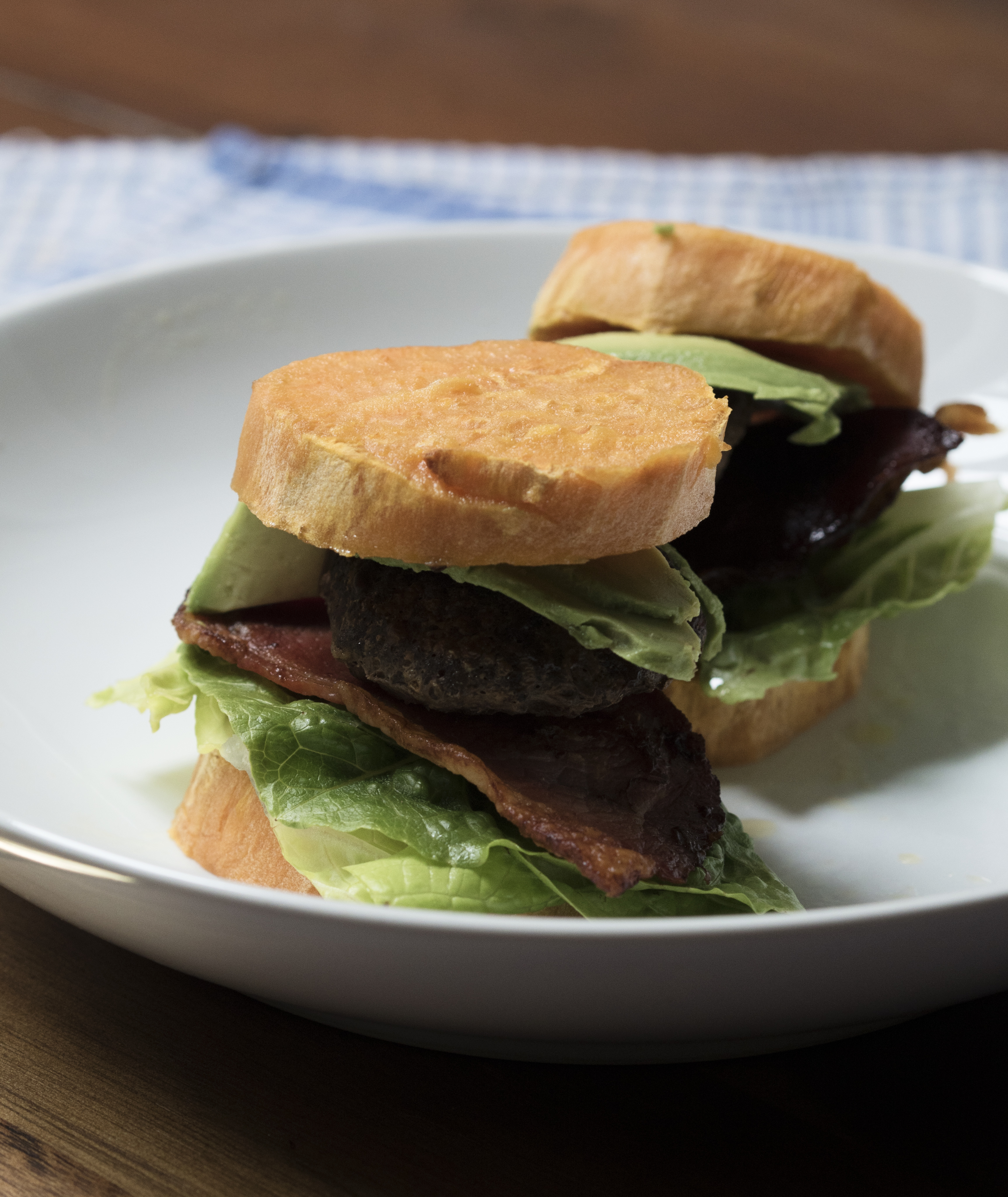 So you got your avocado, bacon, turkey, sweet potato I mean honestly what is not to love?! Im also kinda loving how super healthy they are.  The only negative is that they aren't exactly easy to eat as a burger but fret not, you'll feel way sophisticado while munching away on these bad boys!
Don't worry – I'm not gonna ramble on let's get down to the good stuff
INGREDIENTS
2 sweet potatoes sliced into 16 inch-thick rounds(but obviously, if you're unlucky like me the sweet potatoes in the store will be tiny so you're gonna have to get more than 2)
2 tsp oil
1 pound turkey mince
8 strips Bacon Rashers (that's the "healthy" bacon btw)
1 ripe avocado, mashed or thinly sliced
Lettuce leaves
1 tbsp Nicolas Vahe BBQ Seasoning
1 tbsp chilli powder
1 tbsp oregano
Pinch of salt and pepper
Some store bought salsa ( or be super fancy and make it yourself!)
METHOD
Preheat the oven to 180 c  Babes what are you doing, its summer, whip open that bbq!
Toss the sweet potato slices in a large bowl with the oil and season until well-coated.
Grill for about 15-20 minutes or until cooked through and slightly golden brown. Remove from grill and cool completely.
Meanwhile, season the turkey mince with chilli powder, oregano, bbq seasoning, salt and pepper and shape into patties that will be the right size to fit in between two sweet potato buns. Refrigerate the patties for 20 minutes, which will help keep their shape and size as they're cooking.
Place the bacon on to a baking tray and cook until crispy at 180 c
Cook the burgers in batches to your liking on the BBQ, about 2 minutes on each side for medium-rare or 10 minutes for well done. Remove from the pan and set aside.
Assemble your sliders: sweet potato, bacon, avocado, lettuce, sweet potato AAAAND Salsa
Makes 8 burgers
Enoy 🙂