The other day I was flicking through my old blog posts to give me some ideas of what content I was currently missing. With one of my blog taglines being food, I was shocked to see that I was severely lacking in the food content department – and I call myself a food blogger! Ok I don't actually call myself a food blogger, but I do like blogging about food! Because you know… FOOOOOOOD.
This honestly could not come at a better time though, as the boyfriend and I had just whipped up these delicious Vietnamese inspired summer rolls and I was kinda dying to share it with you. Plus they are so freakin' instagrammable!
hey dont hate.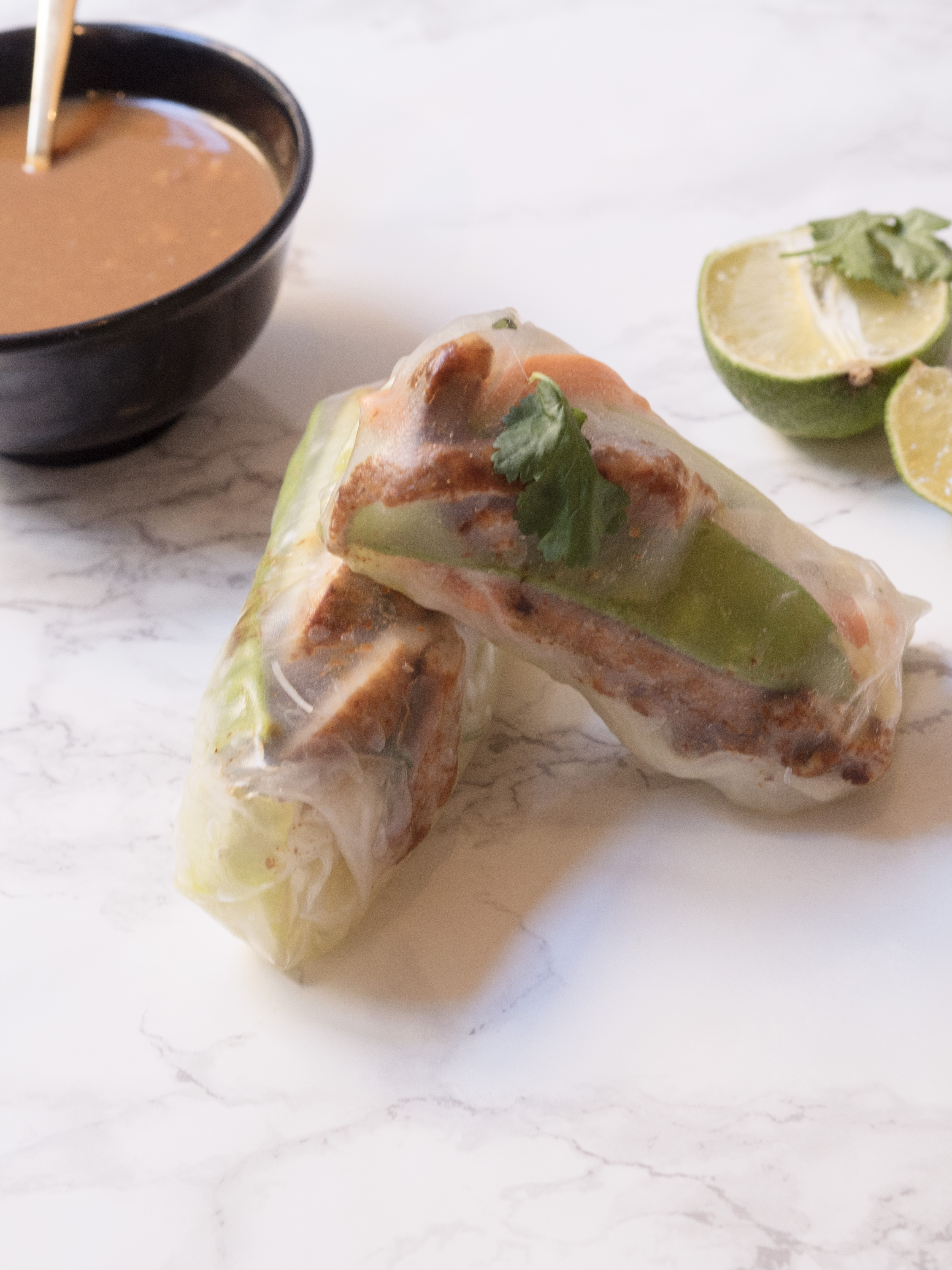 Dont worry babes, you don't have to follow this recipe to the T, that's the wonderful thing about these bad boys – they are SUPER customizable!
As you can see, I am still not being very adventurous with my food photography, and I welcome any pointers with open arms. Just dont suggest I use hairspray, because that will never happen.
YASMINE DOESN'T WASTE FOOD!
Which actually explains a lot regarding my *cough* *cough* "new" dress size.
Anyway if you are wondering what on earth you are looking at they are basically the uncooked version of spring rolls or fried egg rolls. They're fresh, loaded with veggies, cheap and super filling.
Hello summer body! Next years that is!
Anyway – you can find LOADS of these on Pinterest, mostly using shrimp/prawns or tofu. I don't like tofu, and my bank account isn't a fan of shell fish so pork it is! Be prepared for a lot of chopping though, because you want your veggies nice and thin so it's easy to wrap up. We usually fill ours with carrots, peppers, lettuce, peppers, cucumber, mangetout, some pork OR seafood sticks, coriander/cilantro and some noodles. As I mentioned earlier their are super customizable so you could add things like mint, avocado or even mango!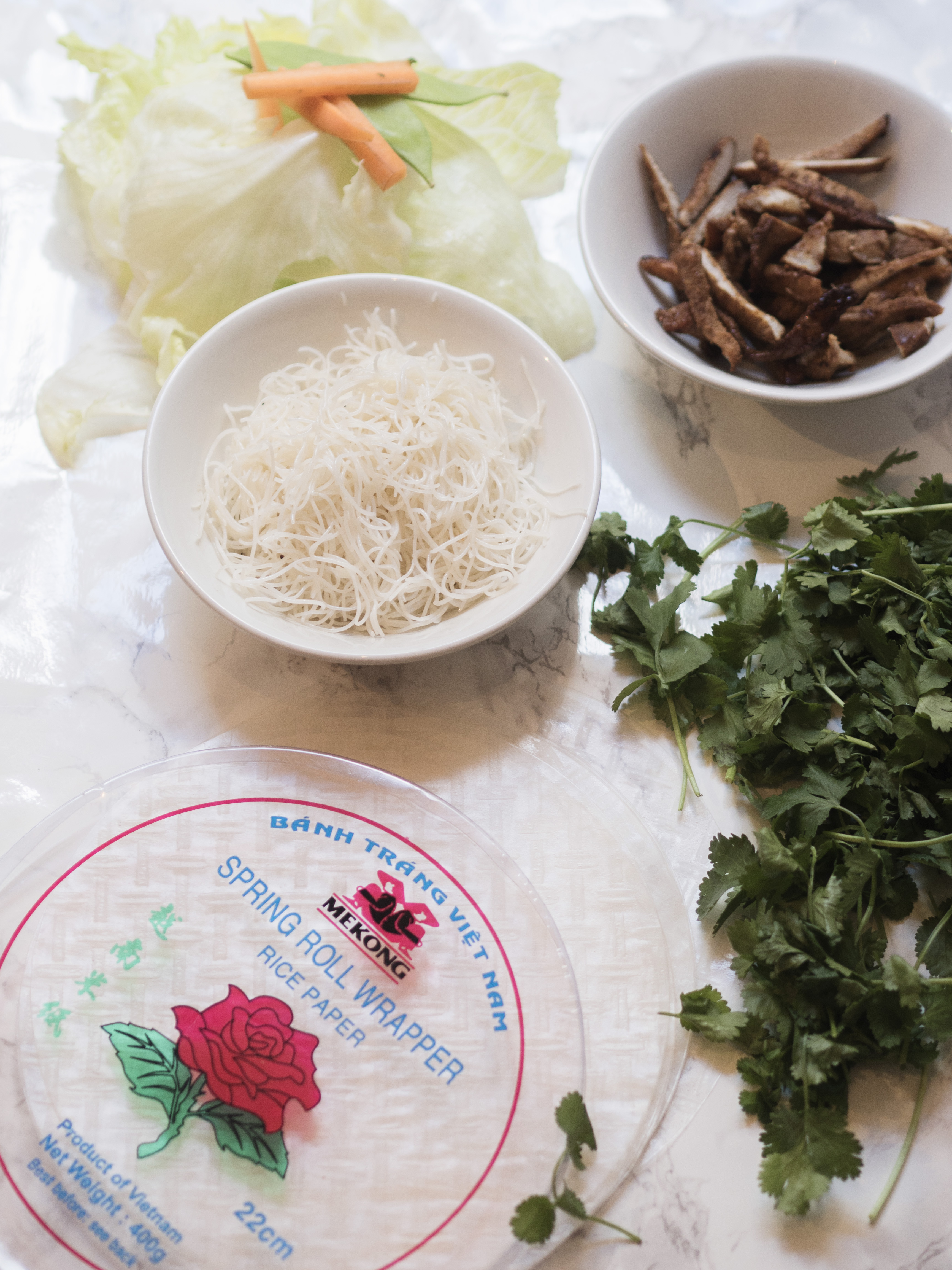 We pick up our rice paper at our local Asian store but I think Whole Foods sell them as well. You might even be able to find them in larger super stores down the foreign food isle.  Each wrapper has about 30-35 calories, depending on brand. Add all these tasty veggies and some protein,  you have one seriously low calorie meal!
I usually find my plastic chopping board as the best surface to wrap these up in. When I use our wooden one they tend to stick more. I also like to use two rice papers for one roll. It makes it easier for the stuff and roll part. But it is essentially all about practice 🙂 You want your rice papers to be soft but still a little firm. When you buy them you will notice they are super hard, depending on the instructions on the package, you want to soak them in water until they go soft. But not so soft you cant doing anything. My rule of thumb is 5 seconds. 🙂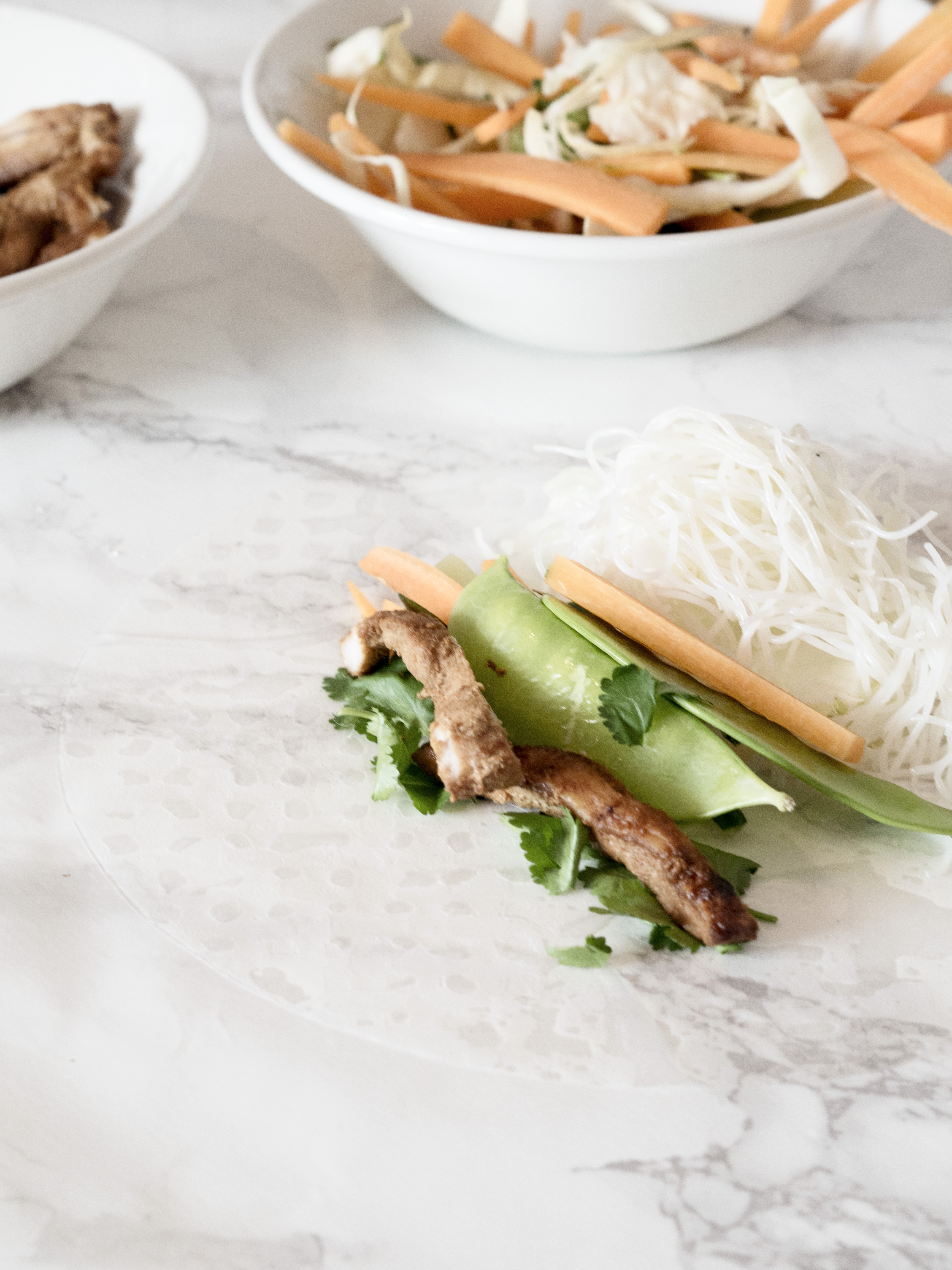 For this recipe, I have marinated the pork in soy sauce, garlic, and some fish sauce before frying it off in the pan. I also cut away all the fat on the pork before frying, because I cant stand the taste.
There are many different ways of rolling them, but this one is easiest for me. I place veggies, herbs, lettuce, and protein very tightly on 1/3 of the slightly firm rice paper wrapper. I TRY to place all the ingredients at the bottom 1/3 of the rice paper so it's easier to roll up. HOWEVER, it usually ends up in the middle haha
I also recommend beginning with a small amount of filling then add a little more until you find what works for you. Better to have lots of small rolls than a few big that are bursting. – TRUST ME ON THIS!
Roll everything up tightly– just like a burrito. Remember, you want a very tight roll.

And VOILA! My rolling skills could still do with a little finessing…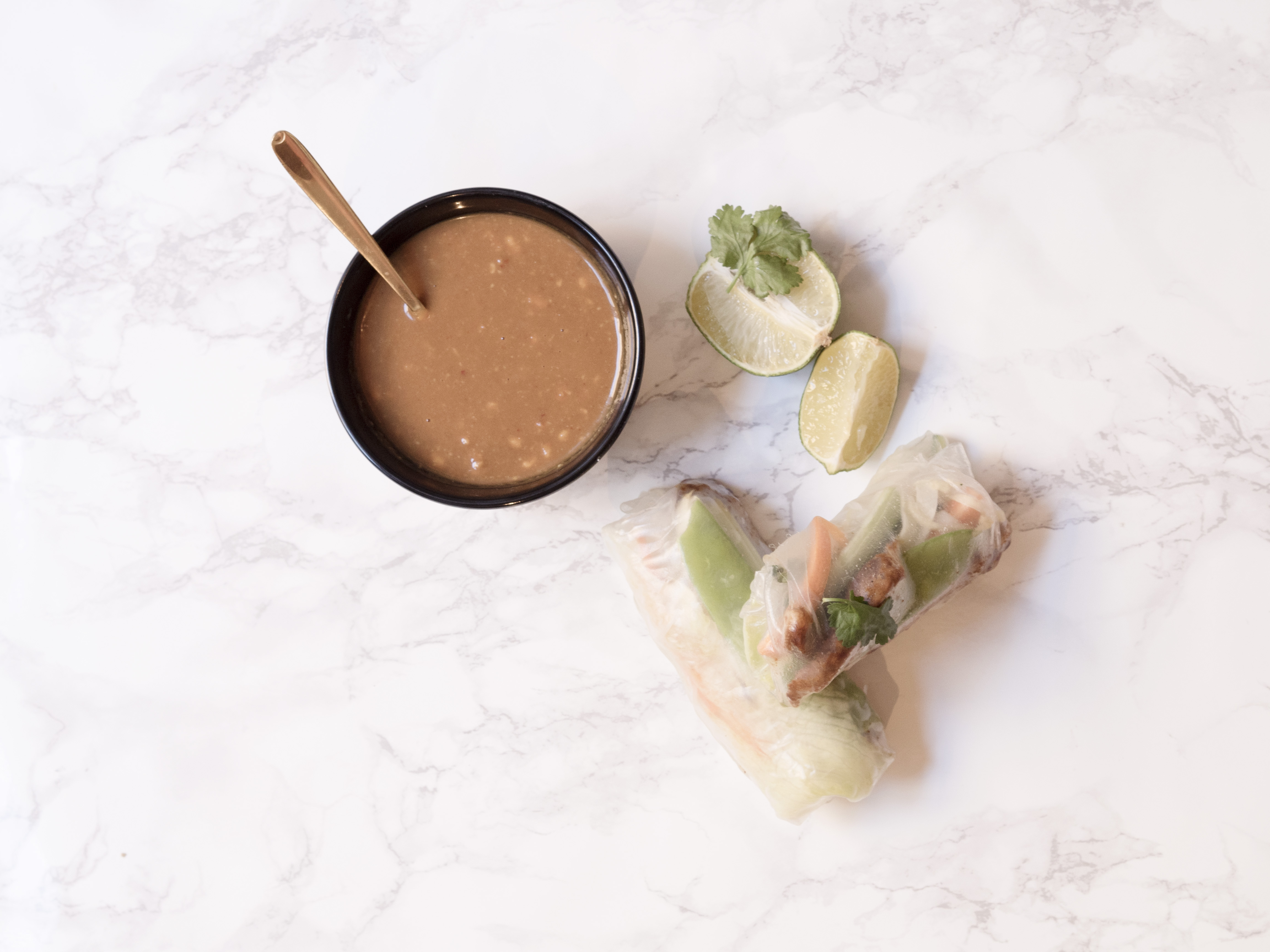 Anyway, one of the BEST parts is the peanut dipping sauce… YUM YUM
Vietnamese Spring Rolls
Ingredients:
Easy Peanut Dipping Sauce
1/4 cup creamy or chunky peanut butter
2 teaspoons soy sauce
1 clove garlic, mashed (or about 1 teaspoon minced)
1 teaspoon Sriracha sauce or a chile garlic sauce, optional for spice
1-2 Tablespoons warm water or milk
1 teaspoon sweet chili sauce
half a teaspoon white wine vinegar
Summer Rolls
10 spring roll rice paper wrappers
1 large carrot, peeled finely chopped
1 large cucumber, finely chopped (you can peel, but I don't – do cut away the soft middle bit though)
1/2 of a large red pepper, finely chopped
LOTS OF LECTTUCE finely chopped
1 ounce cooked rice noodles/rice vermicelli
handful fresh cilantro/coriander
Cooked pork or seafood sticks
Once you're done, wrap each roll up in some plastic kitchen film. I don't recommend keeping them past day 3, the veggies go a bit funny after that. 🙂 ENJOY!