We are finally here people – the first food post of 2018 and it's a veggie one! Can you believe it?! I can! I really regret not posting this before, because it's just so tasty but its also a perfect January recipe. Cheap, healthy and perfect for those of you doing veganuary! It really is the best ever chickpea wrap – middle eastern style!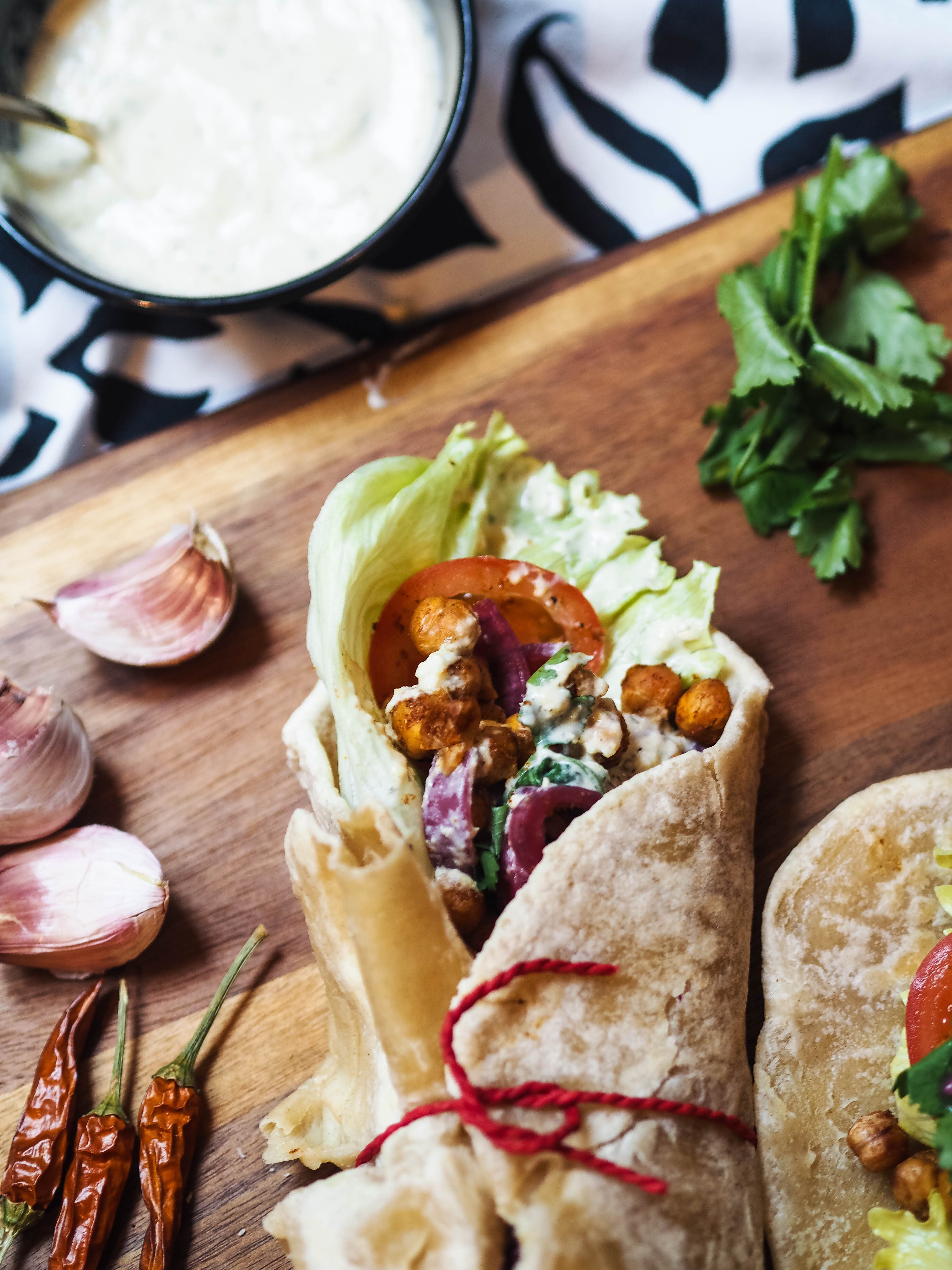 As most of the food I consume, I originally noticed this on Pinterest when I was looking for inspiration on what to do with all the cans of chickpeas left in the cupboard. You see, the boyfriend doesn't really like chickpeas unless it's in a hummus. So I was stuck with several cans of never used chickpeas and out came these bad boys.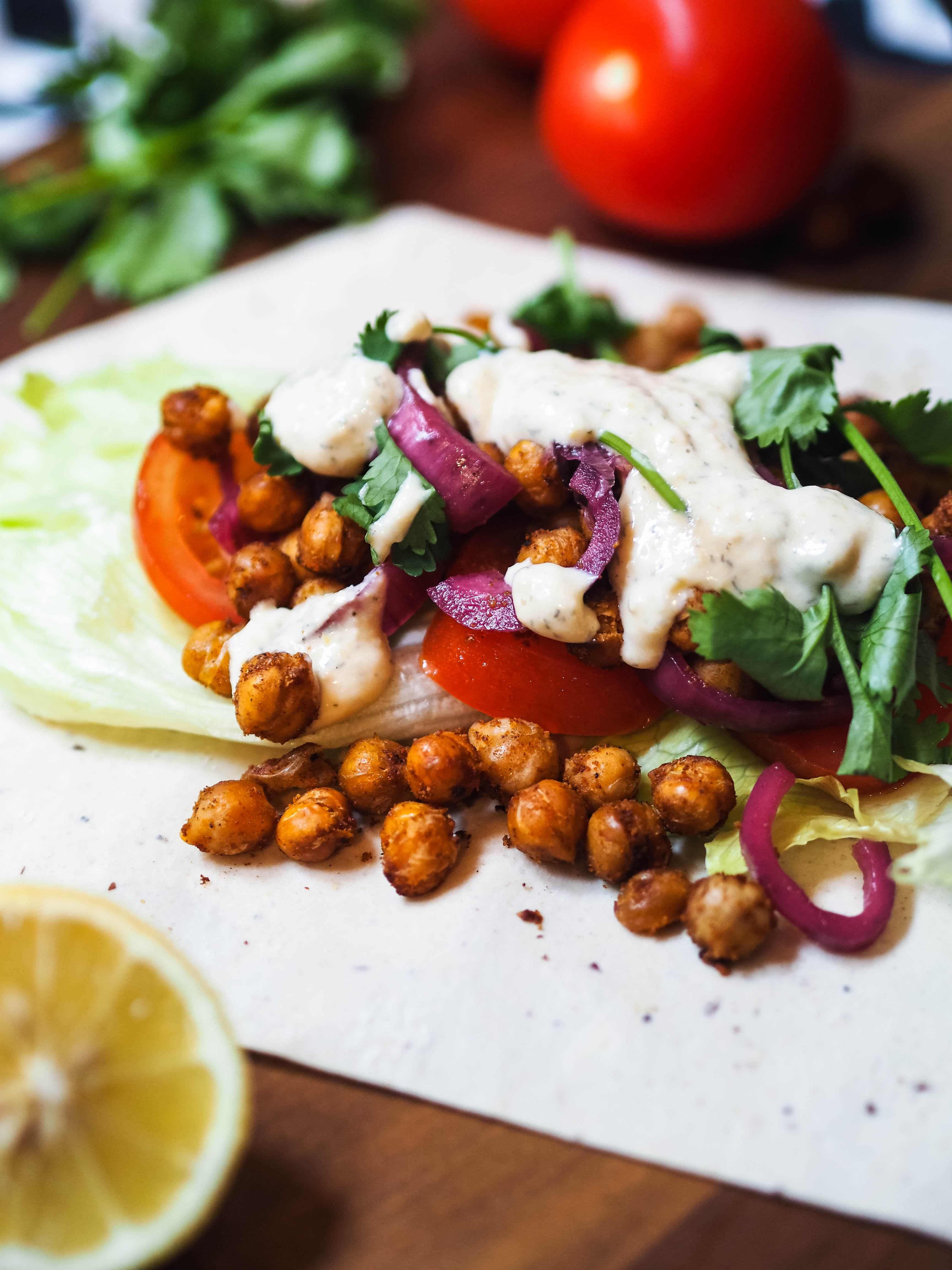 To make these wraps extra healthy, I paired them with a skinny wrap. I love these ones as they are only 100KCAL per wrap but you can use any wrap! I mean, I went a little OTT and made my own flatbread for some these pictures so you can do that too should you feel so inspired! You can also use a lettuce wrap if you are doing the whole low carb thing.
The other great thing about this recipe (besides it being cheap and healthy) is that its super easy and quick to make. You can make everything while the chickpeas are roasting, you'll even have time to go a little OTT with some homemade pickled onion!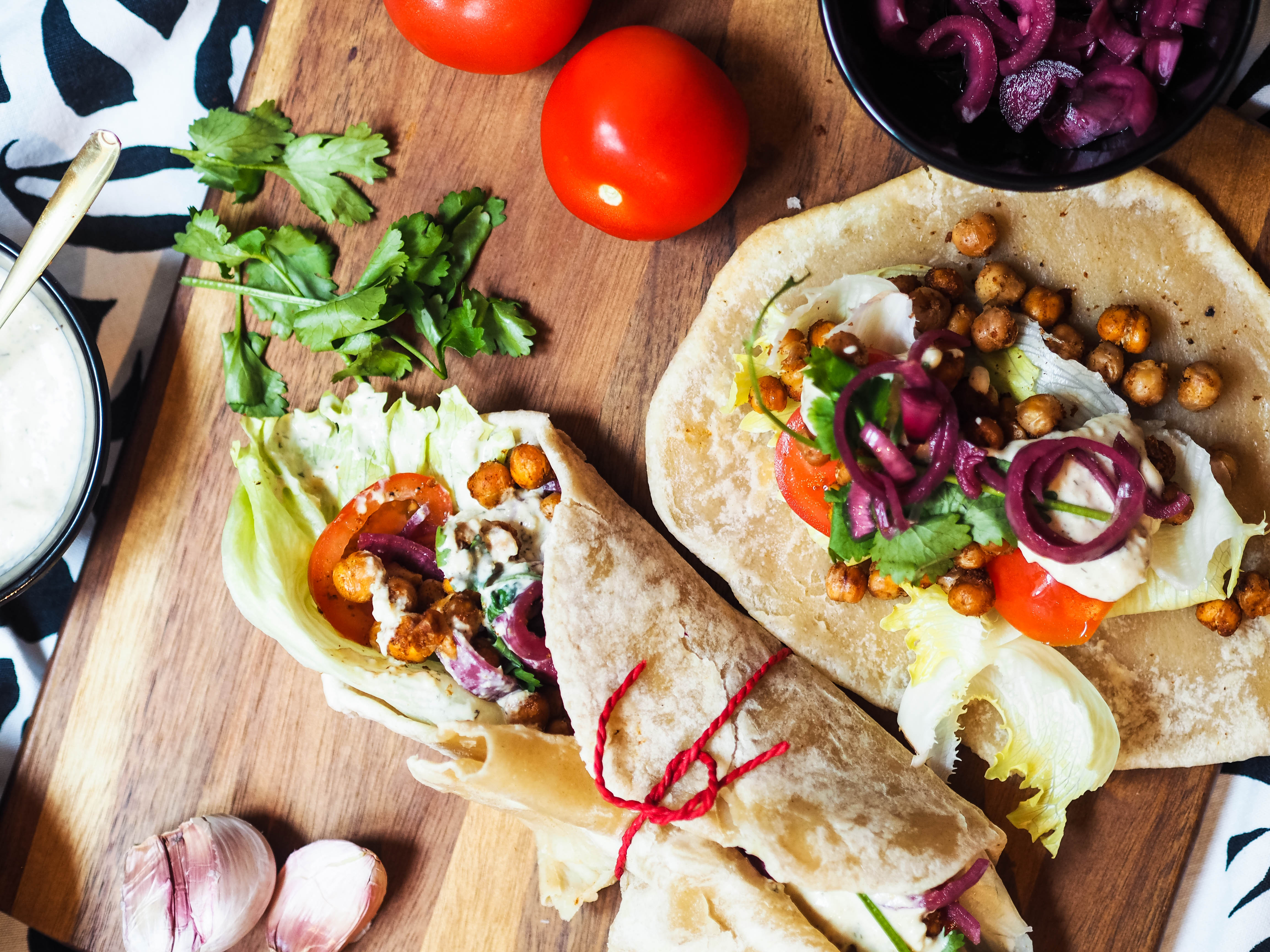 My mouth is already drooling while I am typing this, thats how much of a fat kid I am. They are comforting, feel like a cheat meal, packed with flavour and just so damn frickin' delicious.
These chickpeas make a great snack as well, incase you are too impatient to wrap them up 😉
The best ever chickpea middle eastern wrap
Makes 4 wraps
You will need
CHICKPEAS
2 cans of chickpeas (drained)
1 Tbsp olive oil
1 tsp each cumin and garlic powder
1/2 tsp each sea salt, black pepper, and smoked paprika
1/2 tsp each ground coriander
1/2 tsp each ground chili
HUMMUS SAUCE
1 pot hummus
juice of 1/2 lemon
3/4 – 1 tsp dried dill
3/4 – 1 tsp dried oregano
1 cloves garlic, minced
3 Tbsp  milk to thin out the dress. Trust me you will need this!
PICKLED RED ONION
1 medium red onion, thinly sliced
1/2 cup white wine vinegar or apple cider vinegar
1 cup warm water
1 tablespoon sugar
1 1/2 teaspoons Kosher salt
FOR SERVING
Wraps/ flatbread
Sliced tomato
Sliced cucumber
Sliced red onion OR picked red onion
Iceberg lettuce and fresh coriander
Method
The first thing you wanna do is make the picked onion but if thats not your thing, skip down to step 2.
Slice up onion into thin slices and Combine vinegar, water, sugar, and salt in a  bowl. Whisk together until sugar and salt is fully dissolved. Place onion in a bowl and pour in vinegar mixture. Cover and leave at room temperature for 30mins-1hour.*
Set oven to 200 degrees and lightly drizzle some olive oil in a roasting tin.
In the roasting tin, toss the drained chickpeas with 3/4 of the spices and spread around so that everything is covered in spices and oil. Bake for 25 minutes or until golden brown. Once cooled, add the rest of the seasoning.
While chickpeas are roasting, make hummus dip. Mix hummus with the milk in a bowl, stir in the dill, oregano, lemon and garlic.
Slice up tomato, lettuce, and coriander.
Serve in wrap, with picked onion and hot sauce!
*You can place the bowl in the fridge but it can then take at least 1 day. Pickled onions will last for a few weeks stored in the refrigerator.